Sustainability Label for Luxury Vacation Rentals
From zero single-use plastic to supporting a local charity or being fully passive, the QALIA framework is designed for conscious luxury vacation rentals. The framework includes 88 criteria over three levels of recognition. Importantly, these three levels are designed to encourage members to improve consistently and at their own pace.
We have used our 20 years of experience in operating and marketing stand-alone luxury properties to precisely tailor the framework of the three levels. Consequently, the QALIA sustainability label considers all aspects of a property infrastructure, operations and the guest experience.
Our objective is that EVERY property who becomes a member achieves the ESSENTIALS level. After that you will continue to receive ongoing support to enable the implementation of further sustainable practices.  This allows you to go at your own pace and be rewarded with the next two levels of the sustainability label, PLEDGE and EXCELLENCE.
Obviously, we  recognize that differences exist in certain geographical areas. Local conditions and structural factors may present challenges in meeting some criteria and would simply not be achievable. Therefore, on a case-by-case basis, our policy allows for these and ensures that the endorsement focuses on the property's best ability to meet the criteria.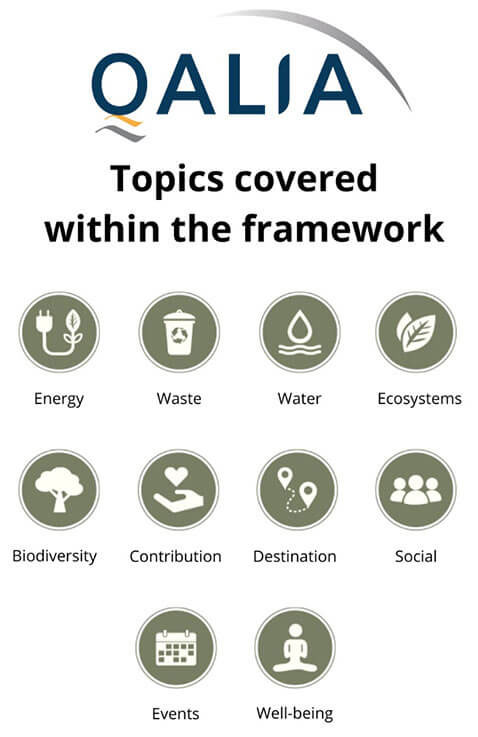 QALIA sustainability label levels
Members begin with the ESSENTIALS level and can then choose to progress to PLEDGE AND EXCELLENCE. This is based on the continuous implementation of sustainable practices over time.
Our framework for sustainable practices
The QALIA framework is a structured assessment of the sustainability practices for stand-alone luxury properties in collaboration with owners and/or operators.
We include 88 criteria covering the main United Nations Sustainable Development Goals (UN SDGs) relevant to tourism. We also follow the guidelines of the Global Sustainable Tourism Council (GSTC) which focus mainly on energy, waste, water, communities, ecosystems, social justice, and well-being.
The applicable criteria vary for each level, and take into account structural as well as local factors. The QALIA criteria are reviewed and updated once per calendar year.

Some of the key benefits of our endorsement:
Recognition from an independent body increases credibility of your sustainable practices and claims


Expand exposure and visibility within a competitive market

Increase brand reputation and differentiation

New revenue stream by appealing to conscious guests seeking properties aligned with their values

Retain and attract employees who want to work for  value-driven businesses

Create fulfilling and meaningful experiences with genuine storytelling
ESSENTIALS
The entry level of our sustainability label includes 37 criteria focused on simple changes which generally improve the guest experience virtually zero capital investment. The practices can be implemented in a short period of time either by the in-villa or concierge/operations team. You must achieve all 36 criteria in order to be endorsed.
PLEDGE
Includes 35 criteria which showcase your brand's commitment to creating a difference . It focuses on involvement in communities and a deeper sense of responsibility in your operations. The recognition is awarded when a property meets the 21 required criteria and 50% of the 14 recommended practices.
EXCELLENCE
This level demonstrates that your property has reached an exemplary level of commitment to sustainability and meaningful impact. This is the highest level of sustainability label within our responsible tourism standard and has 16 criteria. The endorsement is awarded when 10 of the required criteria are met as well as 50% of the 6 recommended practices. 
How our endorsement works
INITIAL ASSESSMENT
We conduct a preliminary Q&A interview with all potential members. We cover all possible queries you may have about our organisation. We explain the sustainability label's criteria, the process and the benefits of being endorsed. You will have the opportunity to discuss your current situation, long-term plan and what would be needed to meet the criteria within the label.
DOCUMENTATION
Each property is required to submit evidence that the criteria are met. You will submit evidence in the form of documents, video or images via our online platform. Prior to submitting the relevant information, we check everything to ensure a smooth and prompt upload process.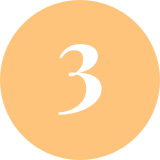 VERIFICATION
Our advisory team verifies that all submitted documents, images and/or video are compliant with the criteria. If something is not clear, we may ask you for new evidence to validate a criteria. Once the verification is completed, a certificate of endorsement is issued with the access rights to use the relevant level of the QALIA sustainability label.
COMMUNICATION
We will promote your property's commitment to sustainability within the terms of the agreement you have approved. This would generally include PR campaigns targeting specialised agencies and luxury travel/lifestyle blogs and magazines that are looking for conscious luxury travel brands. Additionally, through a partner company, we can also help you develop your distribution strategy.
Membership rates
The membership fees are the same regardless of the levels. The endorsement fee, including the support during the implementation and the verification process, is EUR 950, renewable annually. 
To initiate the implementation program and submit the verification documents, an application fee of EUR 350 is required at the time of signing the agreement. Upon publication of the endorsement, we will deduct the application fee from the annual fee. 
For a verification of the criteria on-site, an additional fee of Eur 650 is applied per property, plus travelling expenses in economy class. We attempt to organise multiple verifications within the same area to share the travelling costs to reduce our carbon footprint (which we offset by company rule).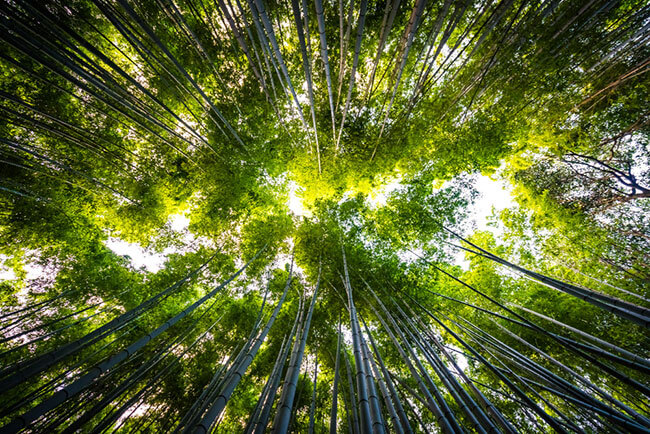 Frequently Asked Questions
Learn How it Works!
How long does it take to receive the label once an application has been submitted?
Once the application is completed and all documents, video or images have been submitted, we will contact the property within one week to finalise the verification.
Providing that all criteria are met, and no information needs to be clarified or re-submitted, the endorsement will be granted after a maximum two weeks thereafter. 
How often does a property need to be reassessed to maintain the label?
We remain in close contact with all properties, noting if they have any improvement plan in place and offering guidance when any new criteria is added. We provide ample notice prior to applying any change to the framework. 30 days prior to the anniversary, we communicate with each property to review their annual report and co-operatively assess concerns, queries, and the opportunity to maintain the endorsement. 
What happens if a property does not meet the criteria for the label after being assessed?
We consider that becoming sustainable is an inevitable journey, and that we all do our best. Our objective is to ensure that EVERY property applying for the label meets our criteria depending on their capacity and surroundings.
For that reason, we establish close cooperation with each property. We start with an initial assessment and conversation to adequately guide future members in the implementation of their practices that is attainable in terms of timing and resources. This takes into consideration the possible restrictions due to their infrastructure or their location which will not affect the endorsement.
How does the sustainability label contribute to the wider global sustainability movement and goals?
The overall objective of QALIA's framework, and the verified members, is to actively demonstrate leadership in sustainable practices for all types of properties which in turn impacts the wider global sustainability goals in the tourism sector. 
We wish to personify the leadership of the luxury villa hospitality by raising awareness on their sustainable tourism practices, their effort in reducing their environmental impact, and encouraging the support of local communities. 
How is the label promoted and marketed to potential guests?
Out team uses multiple strategies for the promotion of the label:
We run a regular PR campaign with reputed luxury lifestyle and travel magazines who are keen to feature sustainable luxury properties.

We nurture close relationships with an increasing number of agencies specialised in luxury villas hospitality seeking to propose sustainable properties to their clients. This is an opt-out option for each property as we respect everyone's distribution strategy.

We aid each property with how to promote and feature the label during their guests' booking process. Our label is dedicated to attracting the attention of devoted conscious travellers seeking sustainable experiences, while also raising awareness among curious newcomers to the concept of sustainability in luxury villas.  
What support and resources are provided to help a property meet the criteria for the label?
Properties and members receive support and resources from our organisation to help them implement practices and meet the criteria to be endorsed. This may include access to technical experts, and best practices guidelines and tools, as well as sharing information on a local or larger scale.
What is the difference between remote and on-site verification?
All properties submit evidence documents using our online platform, this allows them to be remotely verified. However, due to some possible operational or resources limitations, somes properties would opt for an on-site verification by one of our team members who would conduct the validation of the documents.
What would be the fees dues if I apply for several levels within the same year?
Depending on individual cases and when a property has already implemented sustainable practices, several levels can be applied for and awarded within the same 12-month period. However, separate processing fees remain applicable for each level and credit cannot be transferred between levels.
Precise consultations are conducted during our initial interview, and we invite members to submit the various levels together. In the case of applying for multiple levels, only the non-refundable fee of EUR 350 will be multiplied by the number of levels. However, only one implementation deposit will be credited towards the annual fee.
For property owners and managers with multiple units, please contact us for a quote.
Get in touch!
Increasingly, luxury rental brands contribute to the preservation of our environment through best practices. Owners and/or operators also believe that responsible tourism does not mean sacrificing any part of the guest experience. In fact, it's more about making a better choice and being a force for good.
It all starts with a conversation. Let's share our views and discuss how our partnership can strengthen your brand.
Meet with Us
Please see our contact page to meet with us during the 2023 conferences